Version 29 of Mozilla's Firefox web browser went stable on Tuesday, showcasing a new design, deemed "Australis" that has been testing in the Firefox Nightly beta channel since November. Among the most noticeable features of this new design are the curved tabs and the Firefox Menu (similar to Chrome's "hotdog menu"), which make for a much sleeker look, albeit a look much like its competitor browser, Google Chrome.
The idle tabs are now transparent, allowing for better use of themes, and there are some smart touches, including the absence of a forward button, that is, until you actually go back a page, in which it appears at your disposal. The design principles are in line with what can be seen in Firefox OS, and Mozilla seems to be looking to unify its browser on all form factors.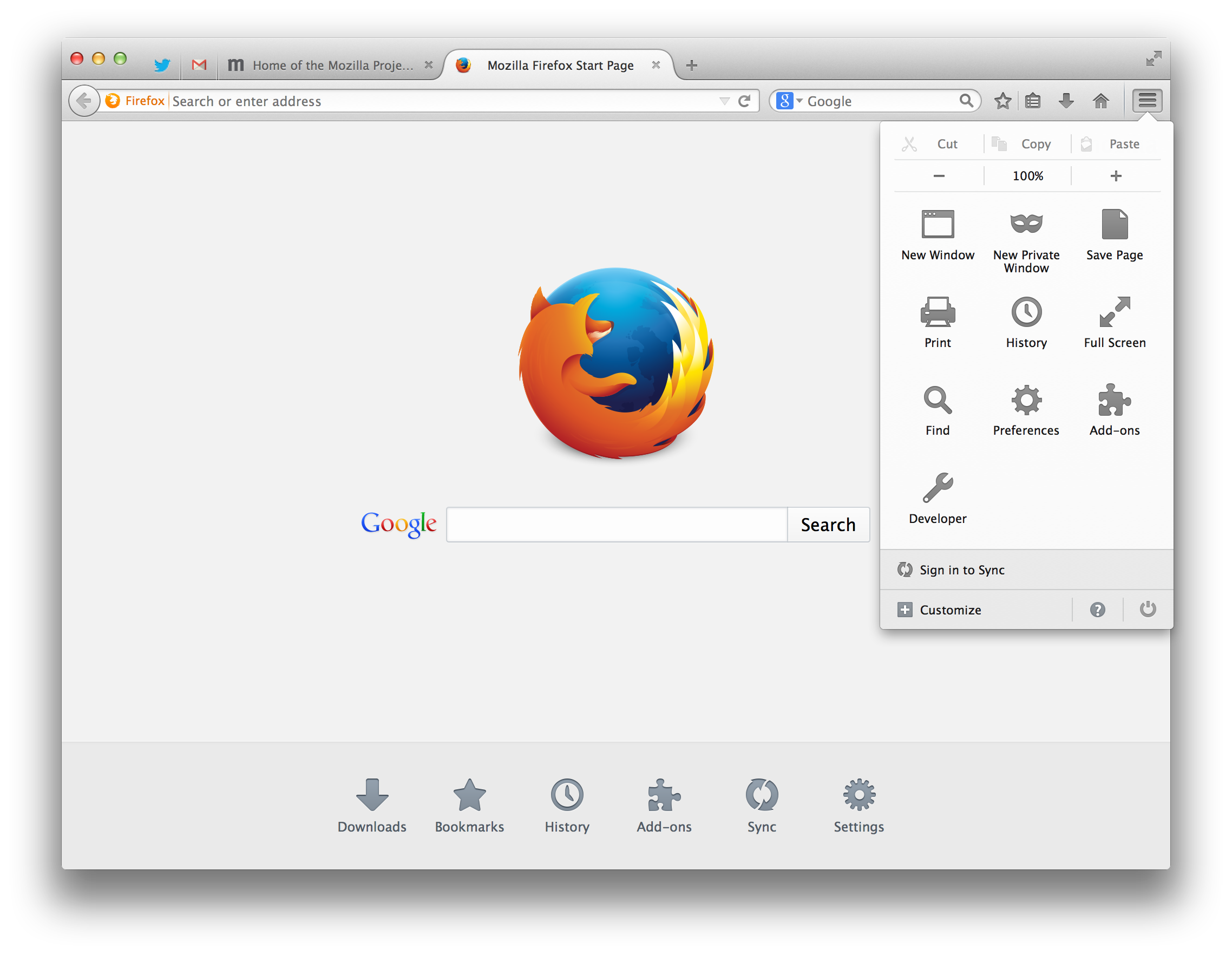 The design also streamlines the menu customization, add-on management, and Firefox Sync sign-in. The menu customization is quite handy, and allows you to organize browser buttons and functions on the toolbar, as well as add-ons. The add-on manager is now right in the menu, an improvement over previous releases where the most readily available access was through the Mozilla Firefox Start Page. Firefox Sync works much like the signing in with a Google account on Chrome: all bookmarks, passwords, history, and preferences are synced between devices that have been signed into, whether it be a phone or a computer.
It seems Chrome has the upper hand on this, as it also offers an iOS app and Chromebooks to sync, in addition to the Android, Windows, Mac, and Linux browsers that Firefox offers as well. In terms of technical development, the latest release is also an improvement. The stable version of Firefox now offers WebRTC, a web feature created by Google and Mozilla, supported in Chrome since version 25, but only in Firefox Nightly until now. The protocol enables plugin-free video chat and file sharing between browsers.
The browser also boasts special JavaScript enhancements for plugin free games (plugin free being consistent with Mozilla's stated goal of an "open web"), Web Audio API implementation, and developer tools for Firefox OS debugging. [youtube id="bEw7VdZ_CZw"]The release may gain some negative reception due to its uncanny resemblance to Google Chrome, but the latest Firefox has its own feel.
It looks and feels fresh, an may bring momentum to a browser that has been slipping lately in favor of Chrome.
Source: Mozilla