Apache Software Foundation has released OpenOffice 4.0 which brings significant changes to the user interface and compatibility with Microsoft Office documents.
The new version of OpenOffice, has introduced a new sidebar, designed to take advantage of widescreen monitors. The side bar has been taken from IBM's Lotus Symphony office Suite, which was a fork of OpenOffice.
Apache OpenOffice vice president Andrea Pescetti, said that the new side bar is "the first radical improvement to the OpenOffice user interface in years, users may easily edit their document properties in-context, with the most-frequently needed controls available in panels." A new framework has also been introduced which will allow developers to build extensions for the side bar, " enabling applications that integrate business application data, seamlessly integrate with cloud and mobile document editing environments, and automate common document workflow tasks."
We are looking for bloggers to cover Ubuntu related news and howtos. If you are well versed with Ubuntu and want to monetize from your work - join the Muktware's Bloggers Network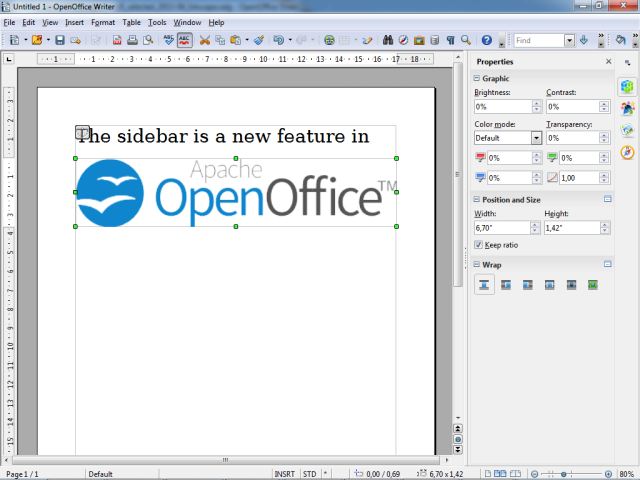 Apart from the new sidebar, OpenOffice several under the hood changes for improvements in graphics and performance. As many as 20 changes were made to improve compatibility with Microsoft Office Documents which include Microsoft Word, Excel and PowerPoint documents.
Rival LibreOffice has made good progress after it forked out of OpenOffice, while latter has been rather slow in developing new features. However, the new Sidebar has enabled OpenOffice take a huge leap forward.
Slideshow Image:
The Apache Foundation has decided to make Open Office, the free office suite a top level project. This means it will enter a phase of high development with a lot of attention paid to its bugs and improving it5s features. The office suite was acquired by Oracle and later abandoned to be taken up by […]
When it comes to developing a complete website, page speed is one of the key factors to make a site successful. For this reason, Google, along with a community of developers had created a new Apache module called mod_pagespeed back in 2010. The good news is, this module is now out of beta and can […]
The popular Linux web server, Apache has got a new release. This release is notably a big one, and fixes over 50 bugs and two security loopholes. The loopholes closed are: mod_proxy_sjp: fixes Apache privacy flaw due to response mix up. mod_negotiation : XSS (cross-site scripting flaw). The latest version can be downloaded from here […]