Posted by
reporter
on
June 10, 2011
Apple, the company which sued Samsung for alleged design similarities, the company which brags about 'innovation' so much that loyal fanboys think Apple has invented all those cool technologies (which have become obsolete in front of Android), seems to have double standards when it comes to copying or stealing from others.There is no question about how iOS 5 heavily borrows (or steals) from Android and Windows Phone 7. If you remove most of the features of iOS 5, which are borrowed from Android, you may find nothing new at all.

It seems Apple has run out of ideas and has started looking at the apps developed by external developers and started branding them as their own.

The latest incident being the 'much-talked-about' Wifi Sync feature. There was no way an iOS user could sync data over wi-fi, a feature common on Android devices via 3rd party apps. It's not that there was no such app. There was an app developed by Greg Hughes which Apple rejected. Apple did show considerable amount of interest in the app. The app is extremely popular on jail-broken iPhones.

The Register reports, "Fast forward to Monday, when Apple unveiled a set of new features for the upcoming iOS 5, including the same wireless-syncing functionality. Cupertino wasn't even subtle about the appropriation, using the precise name and a near-identical logo to market the technology.

"Obviously I was fairly shocked," said Hughes[app developer], referring to his reaction on Monday when he saw the new feature promoted on Apple's website. "I'd been selling my app with that name and icon for at least a year. Apple knew that, as I'd submitted it to them, so it was surprising to see that."

Apple also seem to have stolen the art work of the logo of the app.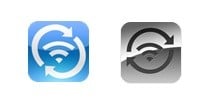 A side-by-side comparison of logos for Wi-Fi Sync. Hughes's logo is on the left. Apple's is to the right.[Courtesy: The Register]
What Apple supposedly did was closed the shop for that developer and stole the idea and published the app as a feature of iOS 5. The poor developer who presented the concept and worked hard on the app has nothing more to do but regret writing something for Apple.
This is extremely discouraging for developers. You never know when you coolest app will be pirated by the Big Brother himself.


If it was Google, and they liked the app, they would have encouraged the developer, hired or paid him for the app and not just bullied him and snatched it from him. Google Summer of Code is an excellent example of how Google encourages developers to create cool applications.
This incident puts yet another stain on the already dirty linen of Apple. Will this incident discourage Apple developers from creating 'revolutionary' apps for Apple only to be snatched by Jobs Mob?
Is there any dignity left in the walled garden?
Image Courtesy: http://www.flickr.com/photos/zzclef/3052656083/sizes/z/in/photostream/